Two and a half months after my ACL surgery, I was anxious to get back into the outdoors. Dr. Larson and Aaron, my physical therapist, both cleared me to go hiking. So off we went: my boyfriend, Seth, and friend-of-friend Caryn.
We left the trailhead around 5:30pm on Saturday. The hike began among trees and dense biting flies, with occassional frogs scattered on the trail. Above the tree line, the flies vanished. We crested the ridge in the picture on the right and the rest of the hike continued on the other side.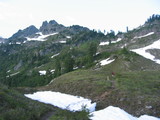 Rising above the treeline.

As we approached camp, a man came walking towards us and recommended a place to camp. It turned out that he was a ranger and also wanted to see our camping permit. We chatted a bit. We discovered that two other parties were camping nearby and expecting to summit the next day. They were planning to start around midnight. In the middle of the night, Caryn heard one of the parties walking past, commenting that it was 2:30am, and trying to reassure each other that they were ok having left so late. We woke up at 6am and left campe at 7:30am. Our timing turned out to be perfect.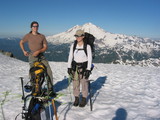 We roped up a little earlier than necessary to give Seth a little extra practice walking roped up. He'd never done glacier travel before, and the three of us are hoping to hike up Mt. Rainier in a month.

As we approached the summit pyramid, the perfect timing of our departure became obvious. As a mountaineers party of nine descended the summit gulley, cries of "rock!" resounded. Another party of two was backing off the more difficult ridge variation. We decided this was a fine time for a food break. Another party of two, who had ascended the Fisher Chimneys, passed us and started up the ridge. As we finished our snacks, the last of the Mounties exited the gulley. We climbed with no one above us to drop rock! onto our heads.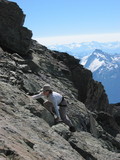 Caryn climbing up summit pyramid.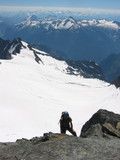 We summited in fine weather. I'm so excited that Seth likes mountaineering so far!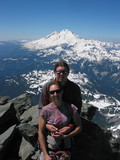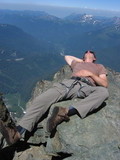 We enjoyed a leisurely hour or so on the summit. The weather was gorgeous, with views south to Mt. Rainier and north to the Canadian Rockies. Unbenownst to me and Seth, however, our sunscreen was failing us. It came in a convenient stick for no-hands application. It was promoted as non-irritating to the eye which was indeed true, when I poked some into my eyeball to find out. However, it did nothing to stop the sun's rays. Seth and I both returned rather roasted.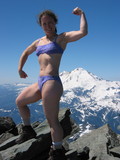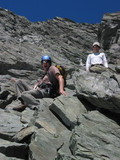 We downclimbed the gulley without adventure. I had to do some interesting climbing on account of the newly implanted ACL graft in my right knee. Since the ligament takes a long time to come up to full strength, while my knee feels great, my doctor and PT don't want me putting weight on it when bent more than 90 degrees to avoid stressing the graft. Rock climbing, even easy terrain, without stepping onto my leg when thus bent calls for some creative variations. Caryn, a physical therapist, also discouraged kicking steps in the snow with my toes, which was the only other modification I made to protect my ACL. Oh, and I wore my fabulous Donjoy leg brace.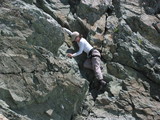 All told, a fabuluous hike!