Skiing Mt. Baker
Never walk down a mountain if you can ski down the mountain.
7-8 June 2016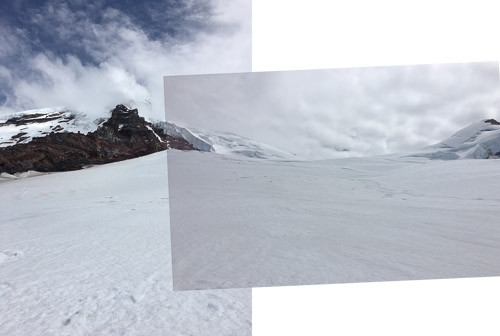 My last big mountain trip was up Mt. Rainier in August 2006. We intended to camp on the summit but instead camped at 13,000 ft because we couldn't find a way past a large bergschrund. It was late in the climbing season so crevasses were opened up and snow bridges melted. We contoured along the bergschrund for a while, not finding a walkable crossing. For differing reasons none of the three of us were up for leading a short ice pitch that separated us from a smooth path to the summit. On the descent I decided: Never walk down a mountain if you can ski down the mountain.
Since, I've wanted to ski Mt. Rainier. In that decade I've been foiled by weather, ski partners' schedules, pregnancy or a new baby, medical issues.
This is the story of how, once again, I didn't ski The Mountain, though at least I skiied a mountain.
June 6-10 was booked: My ex-housemate Chris Simmons had cleared his schedule; my husband was prepared to single-parent our three young children; my co-workers knew to expect my absence. Sunday night Chris and I checked the weather and it looked good. A storm would be come through later in the week, but Tuesday and Wednesday looked perfect for a two day summit-and-ski excursion on Mt. Rainier. I flew to Seattle with all my gear on Monday afternoon, while Chris recovered from his weekend trip. That night we re-checked the forecast:

.INCREASINGLY STRONG WINDS ABOVE THE TREELINE ON 
WEDNESDAY AND THURSDAY...MOSTLY ABOVE 10000 FEET...WILL MAKE IT 
EXTREMELY DIFFICULT TO MOVE SAFELY IN ALPINE TERRAIN OR SET UP 
TENTS. 

PEOPLE CLIMBING THE MOUNTAIN OR GOING INTO THE 
BACKCOUNTRY...INCLUDING THE MUIR SNOWFIELD...SHOULD BE READY FOR 
THE POSSIBILITY OF BLIZZARD-LIKE CONDITIONS WITH ZERO VISIBILITY 
AND BLOWING SNOW IN SHOWERS ON WEDNESDAY AND THURSDAY.

and also:

TEMPERATURE AND WIND FORECASTS FOR SELECTED LOCATIONS.

                       TUE    TUE    WED    WED    THU  
                            NIGHT         NIGHT        

SUMMIT   (14411 FT)     24     24     19     15     10
                     SW 40  SW 60  SW 65  SW 50  SW 55

You don't go up in 65mph winds.
Tuesday morning we checked again. Camp Muir at about 10,000ft on Mt. Rainier has a telemetry station. Winds had been steadily increasing all night and were up to about 30mph. With 30mph and increasing at 10,000ft, those 60-65mph winds on the summit seemed completely plausible. This was not summit-and-ski weather.
So, instead of heading 2 hours south to Rainier we headed 2 hours north to Baker. We carried our skis to the snow and then skinned up to a flat rocky campsite a little higher than everyone else was camping. The sunset was lovely.
| | |
| --- | --- |
| This, obviously, is where we put on our skis. | This, obviously, is where we slept. |
| Alpenglow. | Pink is for girls. |
The next day we skinned up to the summit, pausing briefly to watch the sulphorous smoke rising from the volcanic vents a few hundred feet below the summit.
| | |
| --- | --- |
| Skinning up the ridge | The mountain's sulfuric fart. |
We enjoyed a lovely half hour on the summit before intermittent clouds started to roll in. Unsure whether we were about to get socked in, we started our ski descent.


Chris on the summit

Me. Skiing.

We skiied until the slope became too crevassed. At that point, we roped up for the first time. We paralleled the crevasses to the edge of the glacier where we unroped and skinned up the short slope to our campsite. Seeing rainfall in the distance we packed up, skiied down to the snow line, and felt a hint of drizzle just as we strapped our skis to our packs for the hike out.


Chris leading us off the glacier

Me hiking out, skis on my pack.
Next year: Rainier.

Last updated 14 July 2016 © Anna Mitros
Back to Ania's Home Page