Craftsmen's Guild: Arbitration vs Litigation
Four checks. Four stories. Story #2
16 July 2016
In 2009, we hired Craftsmen's Guild to remodel our home. It did not go well. One lead cleanup and two lawsuits later, I hope I'll never see the Amini brothers again. This story series chronicles the lingering repercussions of our bad contractor experience.
. . . . .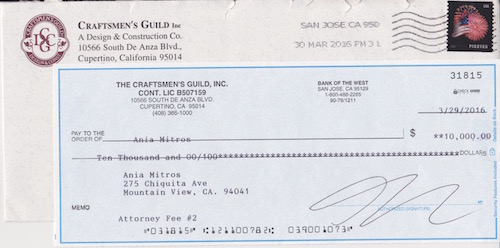 Craftsmen's Guild's second restitution check after losing their lawsuit against us.
Have you ever signed a contract without understanding everything? Maybe a loan, or a credit card agreement... or a contacting agreement.
Little did I know when I signed Craftsmen's Guild's contract back in 2009 that arbitration does not give the full protection of the law. I didn't understand the arbitration clause in the Craftsmen's Guild contract:
31. ARBITRATION
If, at any time, any controversy shall arise between Contractor and Owner with respect to any matters in question arising out of, or relating to, this Agreement said controversy shall be exclusively determined by arbiration administered by and in accordance with the Arbitration Rules of the American Arbitration Association (AAA).

Skip forward many months. Wishing to spare others a nightmare remodel like ours I wrote a Yelp review of Craftsmen's Guild and sighed with relief that I was done with the Amini brothers. But Matt Amini, co-owner and project manager, filed a claim against us for $70,000 for "Baseless defamation damaging our business and false accusation plus." He provided no supporting documentation. He filed it with the American Arbitration Association, not in court. It felt more like a scare tactic than a genuine complaint about a specific infraction.
I wrote an anti-SLAPP motion. California, like many states, has a law on the books to protect individuals and small entities to defend themselves against bigger entities frivolously suing them over free speech. Lawsuits can get expensive quickly. To prevent the guy with the deeper pockets winning, the anti-SLAPP statute allows defendants to file a motion to get the lawsuit dismissed quickly and get their legal fees paid by the plaintiff. So the idea was: Craftsmen's Guild is bullying me into silence. My review is so plainly a mix of opinion and provable fact, both legal and by definition not defamatory that even I, a non-lawyer, can draft the anti-SLAPP motion. After a minimal amount of editing by my attorney (Scott Berman), we filed it with the AAA under the Pierce Shearer LLP letterhead.
I expected the legal nightmare to get resolved quickly. The anti-SLAPP law (CCP 425.16) states: The motion shall be scheduled by the clerk of the court for a hearing not more than 30 days after the service of the motion... The anti-SLAPP motion sat with the AAA for FOUR MONTHS, never heard, never ruled on.
Eventually, I got pregnant. I was in no shape for the stress of a legal battle. The AAA disregard for the "30 day" term in the law effectively cost us all the benefits of the anti-SLAPP law. We settled. We gave up over $10,000 that the contractor's bond agency had agreed should be paid to us to cover lead assessment and clean-up. We spent around $18,000 on legal fees.
I'm confident that if we'd been sued in court instead of in arbitration we would have won the anti-SLAPP motion. The same contractor sued us again, in court, in 2015. I had posted on my personal blog about the remodeling experience. The legal argument in the second case hinged on whether my blog was a "consumer review website" or not. The second lawsuit was a far more complicated than the 2012 arbitration case, and we won with an award of $35,000 to cover some of our 2015 legal fees.
---
This post is duplicated on Medium.com

Last updated 16 July 2016 © Anna Mitros
Back to Ania's Home Page