Christmas Travels
Dec 2012 - Jan 2013
It was a family holiday.
On Dec 21, we flew to Boston to visit Piotr and Stefie and their brand new baby Jay. Jay was four weeks exactly when we left on the 26th.
When I first had Moby, I was very curious how differently babies nursed. I've been lucky to have a couple friends who were willing to swap babies for one feeding, to satisfy my and their curiosity. Stefie hoped to satisfy the same curiosity. Jay cooperated nicely, but unfortunately for Stefie, Arlo declined to cooperate. The moment he saw Stefie's breast, he burst into tears. Lately Arlo has been showing a clear preference for Mama, followed by Daddy, followed by everyone else, so this is probably just an extension of the same trend.
Piotr and Stefie are settling in nicely into their new roles as parents, and found a great Polish-speaking nanny to watch Jay.
I was looking forward to snow and we were lucky enough to get a dusting in Cambridge on Christmas morning. Seth built a little snowman for Moby, and Moby amused himself by eating snow.
We couldn't pass up the opportunity to photograph the three cousins together.
On Dec 26th, we boarded Amtrak for Rochester. The 11 hour ride would be long, but Seth thought Moby would enjoy it, so we opted for the train over a one-way car rental or flight. In fact, the trip took 15.5 hours due to an 80 car freight train with troubles. Some hose disconnected between the fifty-somethingth car and the next and the engineer had to walk the length of the train to find and fix the problem. Our Amtrak train had to wait and then follow the rather slow freight train.
We arrived in Rochester around 3:30am, a few hours into the snow storm predicted to drop about 9 inches that night. We had already agreed with Seth's aunt Valerie that she wouldn't drive across the snowy city to pick us up, but rather we'd spend the night at the Hyatt half a mile from the train station. The Hyatt had promised us that they could call us a cab, but couldn't find a taxi company that was running in spite of the snow. The Amtrak station manager did find some taxis but got us confused with an Indian family and promised us both the single van cab. Finally, the Hyatt sent out their maintenance guy in his personal four wheel drive pick-up with extended cab. We were surprised that the Rochester Hyatt cost only $99/night, but unsurprised at the attentive service and trouble-free stay. It was exactly what we wanted. They brought up a crib for Arlo and a fridge for my breast milk, and our overall biggest complaint was that the oatmeal at breakfast was too sweet. Not so bad.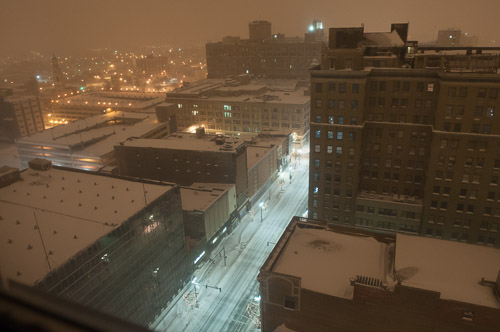 In the morning the snow let up some, and we took a taxi through the well-plowed city to Seth's grandmother's house, whom everyone fondly calls Oma. It was neat to see her with her great-grandsons. Even in her mid-nineties, Oma did a wonderful job of entertaining the boys.
We also visited the Tellexes, Ania's brother's wife's family. Their two year old grand-daughter, Emmie, played very nicely with our Moby.
Of course, we also visited with Seth's aunts Hilary and Valerie.
Moby very much enjoyed the ample snow. Oma's neighbor, herself a mother of nine, lent Ania a five gallon bucket to help with the building of a snowman. Moby happily planted the carrot nose and fig eyes; then immediately asked to pull them off and push the snowman over. Moby also had a fantastic time sledding on a little pink sled lent to us by the Tellexes. First he sledded off the snow piled by the snow plows in Oma's retirement community, and later Hilary and Valerie took us to a park near the lake where he sledded on a big kid hill.
---
This post is duplicated on WordPress.com

Last updated 12 Jan 2013 © Anna Mitros
Back to Ania's Home Page