Solo Trip up Dragontail
A trip meant to kick my butt
August 9, 2003
---
The route summary:
Esmeralda trailhead (gateway to Ingalls and Stuart)
over Longs Pass
east along the trail paralleling Ingalls Creek
ascend north off trail, parallel to Porcupine Creek (stay right/east to minimize bushwhacking!)
meander around basin below Colchuck and Dragontail Peaks. (bring climbing gear and play more next time!)
go up Dragontail
return along same route (minus some bushwhacking)
---
The stuff:
I woke up in my car before 4am at the Esmeralda Trailhead, commonly used to access Ingalls Peak. I'd meant to wake up at 4am and be hiking by 4:30am, but a half dozen fellows getting ready to go up Stuart woke me early. So I was on the trail by 4am. The stars were gorgeous, but I was in a hurry and couldn't look at them much with my headlamp on.
I ascended and descended the 2200ft Longs Pass; and 3 hours into the hike waved a greeting to the last people I would see until my return. The trail along Ingalls Creek is almost flat and easy.
| | |
| --- | --- |
| | The pain started after I'd turned to follow Porcupine Creek, off-trail. The ascent from the trail to the subalpine meadows above involved something near a mile of heinous bushwhacking. By "heinous" I mean standing on branches a foot or two above the ground, faced with a uniform wall of branches and choosing how to squeeze between them. Occassionally I'd step into a patch of ferns taller than myself and think "how nice" -- because they were soft and easy to part. Next time: stay right (east) of Porcupine Creek and avoid nearing the creek itself. That's more or less what I did on the way down and vastly reduced the amount of bushwhacking. |
| | In avoidance of lush vegetation, I ended up on a dry ridge that leads towards Colchuck. There, I saw a buck. Cute. |
| | I also saw some random stakes in the ground. Why? This area was criss-crossed by deer trails, but it was quite rare to see something that might have been human footprint. Why put stakes here? And two of 'em -- one was clearly more weathered than the other. |
| | I headed up the ridge towards Colchuck 'cuz it was fun. The rock was solid, the climbing pleasant. |
| | The turnaround point came for me when I reached a 5.7-ish crack. I was in my hiking boots. The 5.7 move was high enough up the body-sized crack that had I fallen, I would have gotten banged up on the way down, and the landing wasn't great. So I bailed and descended (slightly) into the basin between Colchuck and Dragontail. |
| | It looks like there's a lot of nice climbing on the east face of Colchuck. |
| | I found a cool rock between Colchuck and Dragontail. I think I'd like to climb it. I took more photos of the rock and the specific cracks that looked most appealing. |
| | I crossed the basin and scrambled up Dragontail. Now, it turns out Dragontail has about 4 peaks. I knew the tallest one was also the furthest from the direction I was approaching, so when I gained the ridge I climbed the one north of me. |
| | There was one little 5-ish section crossing to the other side of this peak. It wasn't very hard, but sure was exposed. |
| | From the first peak I ascended, I could look out towards the main peak. In the foreground, you can see part of the peak I was on. |
| | I could also see the 2nd tallest peak (not even 80ft shorter than the real summit). It looked like better climbing and more solid rock -- more fun. So in a moment of climbing heresy, I chose to climb the 2nd tallest peak instead of the true summit. Ack! |
| | People have complained I don't have enough pictures of me among my trip photos. So I shot one. (No climbing partner -- I went solo.) |
| | The descent down the subalpine meadows was just grand. Here, I was thinking to myself how surprising it was that a trip this long could feel mellow. |
| | The ascent up Longs Pass at the end of the day. Here, I was thinking that thanks to the pass, the trip was fulfilling its purpose of kicking my butt. I was tired. A 2200ft pass at the end of what-would-be a 15 hour day feels hard. Coming down, I realized that if I jogged, I'd get to sit sooner. So I jogged most of the last 3 miles. |
The following were shot from Longs Pass. The left-most mountain is Stuart, and to the right stretch a bunch of other peaks rising above Ingalls Creek. East is right; west is left. I had descended from where the photo was taken and walked right along the trail on the valley floor.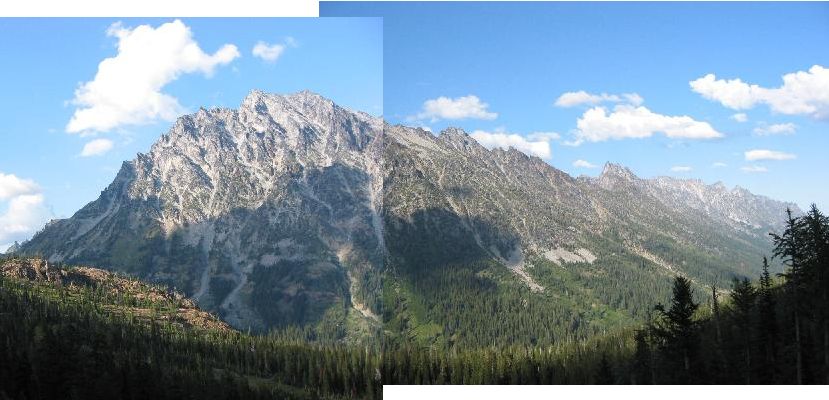 ---
The stats:
Elevation:
| | |
| --- | --- |
| esmeralda trailhead | 4200 |
| longs pass | 6300 |
| ingalls cr @ longs | 4800 |
| ingalls cr @ porcupine | 4100 |
| dragontail | 8800 |
total gained/lost: 2100 + 4700 + 2200 = 9000 ft

Mileage:
| | |
| --- | --- |
| parking to longs pass | 3.0 miles |
| longs pass to ingalls cr | 1.1 |
| along ingalls cr | 2.7 |
| ingalls cr to dragontail | 2.0 (as the crow flies) |
| Total (one way) | 8.8 |
| Total (round trip) | 17.6 miles |


Time: 4am - 6:45pm, 14:45 total

Animals:
5 elk
1 boy deer (buck)
1 girl deer (doe)
3 grouse (or whatever those chicken-like birds are)
1 marmot
lots of little birds
oodles of ground squirrels and chipmunks, some squeaking at me
humans, but only in the first 3 hours and last 3 hours.
---
© Anna Mitros
Back to Ania's Home Page