Wines I've had and liked:
Seth and I enjoyed the following two wines. I don't know the vintages.
St Clement Merlot
Gallo Sonoma Cabernet Stefani
The "Official Guide to Wine Snobbery" mentions:
Gallo, which produces an Chenin Blanc and Colombard that are constantly knocking off premium wineries in coparative tastings...
Stag's Leap: Another of the small, premium California wineries, Stag's Leap is prized for its Petite Sirah as well as its Chardonnay.
Mayacamas is one of California's premium wineries, bottling an excellent Chardonnay as well as first-rate Cabernet Sauvignon and Zinfandel.
---
Saratoga/Cupertino
An any-weekend winery tour could be along this route and visit the Pichetti, Ridge, Paul Masson, and Mariani (Savannah Chanelle) wineries. A map showing all eight wineries is here.
Winery
Address
Hours
Notes
Mariani Winery aka Savannah Chanelle
23600 Congress Springs Rd.
Saratoga
408-741-2930
map #43
Open daily 11-5.
Pinot noirs, Chardonnays, 100 year old Zinfandel, 70 year old Cabernet Franc, 70 year old Carrignane, Syrah.
Picchetti Winery
13100 Montebello Rd.
Cupertino, CA.
408-741-1310
map #80 (Sunrise Winery on map)
Open daily from 11am to 5pm for wine tasting.
Participates in Passport.


4/21/2007 We bought a case of the 2005 Viognier, and one each of the 2002 Angelica and 2004 Zinfandel. Nice wide selection of wines to taste. Peacocks wander the premises and beg at the picnic tables.

Ridge Vineyards
17100 Monte Bello Rd
Cupertino, CA 95014
408-867-3233
map #63
Open Sat-Sun 11-4
Participates in Passport.


4/21/2007 We bought two 2005 Lytton Springs. Only 3 wines available for tasting today, due to Passport Day; usally 6 are offered. Steep bicycle ride up Montebello Rd.




May 19 and 20, 2007: Futures Tasting

Paul Masson Mountain Winery
14831 Pierce Rd Saratoga
408-741-5181 (on printed map)
408-741-2822 (on website)
map #58
Wed-Fri 1pm-4pm, for weekends see Events Calendar (Mar 3,4,10,24,25, Apr 1,7)
Cooper-Garrod Estate Vineyards
22645 Garrod Road
Saratoga, CA 95070
408.867.7116
questions@cgv.com
Tasting Room: weekdays 12-5, weekends 11-5
Winery: daily 10-5
Participates in Passport Day.
Naumann Vineyards
16505 Montebello Road
Cupertino, CA 95014
(408) 867-7871
service@naumannvineyards.com
Can make a tasting appt.
Participates in Passport Day


4/21/2007 We didn't really like the wines.

Fellom Winery
17075 Monte Bello Rd.
Cupertino
408-741-0307
map #29

By appt. only
Participates in Passport.
Saturday, April 21, 2007, 11am to 5pm
WINE WITH HEART May 7 ; SANTA CRUZ MOUNTAINS VINTNERS' FESTIVAL June 2 & 3


4/21/2007 Very nice zinfandel, but I'm not so into zinfandel. We bought the zinfandel port, interesting, will be nice every once in a while. Longish steep driveway.

Cinnabar Vineyards & Winery
23000 Congress Springs Rd.
Saratoga.
408-741-5858
map #14
By appt. only
Participates in Passport.
Saturday, April 21, 2007; 11:00 -- 4:30 pm


4/21/2007 2.5 mile mostly unpaved driveway. We didn't like most of the wines. The Lodi Cabernet Franc was ok, but not worth the $30+.

Thomas Fogarty Winery
19501 Skyline Blvd
Woodside, CA 94062
650-851-6777
info@fogartywinery.com
(too far for this tour)
Wed-Sun 11am-5pm
$6 and $12 tasting fee
Mount Eden Vineyards
22020 Mt. Eden Rd.
Saratoga
408-867-5832
map #50 info@mounteden.com
Visitors welcome by appt only, Mon-Fri 11am-3pm, no tasting room available. Map claims: "Tours by appt only, 2 week advance notice."
Kathryn Kennedy Winery
13180 Pierce Rd.
Saratoga
408-867-4170
map #38
cabernet@kathrynkennedywinery.com
No visitors.
Recommendations for other things to do.
Hotels near the wineries:
Inn At Saratoga 20645 4th St, Saratoga, CA (408) 867-5020
$169/night for Saturday May 5.
Good reviews.
Saratoga Oaks Lodge 14626 Big Basin Way, Saratoga, CA (408) 867-3307 -
from $129/night.
Horrible reviews.
Other things to do:
Passport Day is a day when some wineries that are otherwise not open offer tastings. Passport is coordinated by the Santa Cruz Mountains Winegrowers Association and happens on the third Saturday of January, April, July & November (April 21 , July 21 , November 17 2007) 11am - 5pm for $30 per person. A PDF map of Passport participants.
---
Napa and thereabouts:
Petaluma is 50 miles north of either the SFO or OAK airport. It is about 40 miles north of downtown San Francisco. Napa is 60 miles north of SFO. Healdsburg is 82 miles north of SFO.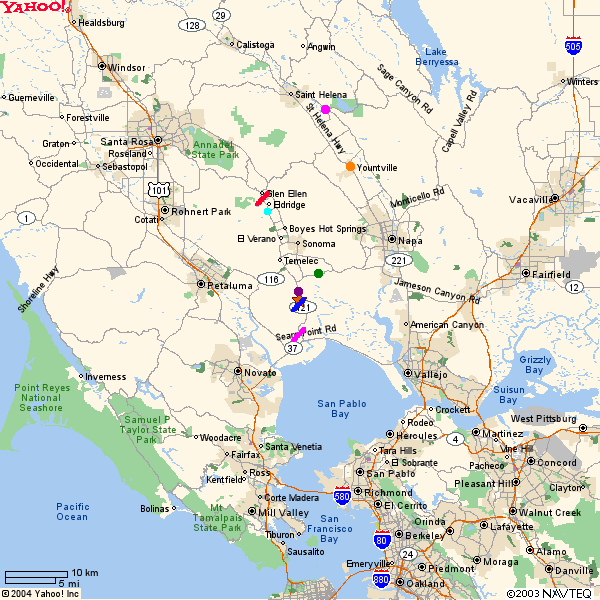 The dots on the map show some (but nowhere close to all!) of the wineries in the area:
---
Healdsburg Area
There's a bike tour company that does a tour in this area They describe it as " The Two Valley Road Bike Tour: The Dry Creek and Alexander Valleys. It's 40-45 miles of quiet roads, beautiful countryside, family farms, glorious vineyards and wonderful wineries." I'm not suggesting paying the tour company for a tour, but if they like to take tourists there, it may well be a nice route. I found a map of the same route on another website: a map of the route.
The wineries visited by the organized "Two Valley" tour include: Lambert Bridge, Quivira (I like their white), Preston, Seghesio, Pezzi King, and Dry Creek. Other wineries in the Dry Creek Valley include: Mill Creek Winery, Wilson Winery (wine tasting Fri-Mon 11-5), and a much longer list is here (because the page is really slow, a local copy is here).
A shorter (20 mile) tour is also possible: click here
We could also visit the Calistoga Inn and Brewery for a sampling of Micro-Brew, which might be a fun addition to all the wine we'd be drinking.
Hotels in Healdsburg:
The Travelodge and Best Western Dry Creek Inn are the most affordable options. Only about 50% more expensive is the Haydon Street Inn which looks much older and more quaint.
Restaurants in Healdsburg:
Ravenous at 117 North St, 707-431-1302 gets good reviews.
Nearest to San Francisco
We could stay in Napa or Petaluma, and ride to the wineries marked with dots or lines on the map above. This is not an exhaustive list of wineries but includes some that feature in a bus tour that I've found. This is my 2nd choice. There are certainly enough wineries around, but I've no idea how nice the roads are. Not having found bike tours around there, I've no evidence to support the prettiness of the route. However, if you'd rather fly than drive to SF, this would be our best choice because these wineries are conveniently close to San Francisco.
Santa Rosa Area
I haven't researched which wineries exactly are along the route, but this is recommended as a 20 mile bike loop out of Santa Rosa described as: "Rolling hills past small vineyards and courtry estates". So there must be wine. It's out of Santa Rosa. click here
---
The rest of my notes which include links to web sites with lists of wineries, the addresses of the wineries noted on my map above.
---
Bike rental
Given how much airlines charge to ship a bike, I may well be better off renting one. There are a few places in north San Francisco where I could rent a bike for about $40/day. There's also a rental place which will deliver a bike to your hotel in the Sonoma Valley for $55/day.
More details on businesses that rent.
Bikes on airplanes: AlaskaAir charges $50 to ship a bike, since it counts as oversize luggage. They have bike boxes available for purchase for $20+tax at either airport (SFO and OAK).
UPS:To UPS a bike would be about $30 each way.